We are not an advertising agency.
We are not a design agency.


Our strength is to transform your business strategy into a brand strategy, which differentiates, inspires and builds the value of your business.

As a strategic brand consultancy, we offer you independent advice on how to

... position your brand
... maximise the value of your brand
... achieve a holistic brand experience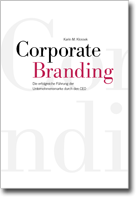 If you are interested to receive a copy of the book Corporate Branding for the CEO in German language, by Karin M. Klossek, Founding Partner of Building Brands, please get in touch with us.

Further Current Publications by Karin M. Klossek

Branding in Private Banking. A glossy corporate brochure is not enough"
Interview finews.ch.

"Change necessitates a new way of talent management in Health Services"
Future Health Economy, Lohmann/Preusker. Desperately seeking staff.
HR concepts safeguard survival.

"Corporate Branding: Character instead of Image."
Pharma Marketing.